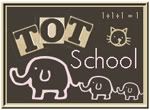 Samuel is 24.5 mths
It has been a looong 4 months, with me being bedridden and in hospital for the first 2 months and not feeling so great for the last two. Needless to say, there has not been much happening in the way of Totschool (or any school for that matter!)
I am now 24 weeks and feeling almost human again so we are getting back into the swing of things as the new school year starts.
Our theme for February for the big kids is the Ocean, so I made Samuel's sensory box to match.
There was lots of feeding of sea creatures happening this week, complete with sounds effects!
We tried to do some mathcing of glass seashells, but Samuel ha no idea and was more interested in trying to put them between his toes! He did however enjoy pushing them around in his dump truck for the rest of the week. We might try again next week.
The big kids were making sea urchins out of playdough and toothpicks and Samuel wanted to join in. He spent ages carefully poking toothpicks in and was so proud when he finished. He carried around for the next 30 mins or so. We needed to go to the shops and he insisited on bringing it, so held on to it for the car ride and the entire time we were shopping. Not so sure it is the safest toy for a 2 year old but he loves it and has played with it multiple times this week.
A week of ocean study wouldn't be complete without a trip to the beach. The weather has been sooooo hot this week but we found a nice mild day and took Nanna and Grandad to the beach for the morning.
We also made the most of a few cooler days and spent heaps of time outside playing with all the bubble supplies left over from Samuels' Birhtday Party the other week. All three kids had a blast and spent a good hour outside playing with the bubbles.
So nothing too structured this week. We are getting back into things slowly and will add a bit more structure next week.
To see what others are doing for Tot School this week head on over to
1+1+1=1
.