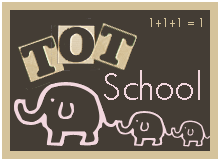 It's that time of week again. We did sooooo much this week that I didn't have time to get photos of everything, but we had a great time. We went to the zoo, which was a bit disappointing as we went to check out the Australian animals and the reptile house, fairy penguins and several others were closed for renovations...sigh...Never mind we'll just have to go back another day.
We also visited Kalamunda History Village. All the photos for that are in the post below.
Our theme for Tot school this week was combined with Liana's Five in a Row book - Katy no Pocket. So we did all things kangaroo!!
We learned how far kangaroos can jump and then tried to see if we could jump that far.
We tried carrying around all our baby animals in our pockets just like Katy did!
We did some kangaroo crafts. Although Liam was more interested in how high he could stack his crayons.
We played some games with the tool cards from the story. We named them, matched them, hid them and then carried them around for the rest of the day. Liam likes his tools even when they are just pictures!
And then our little chef cooked us dinner....
To see what others have done this week for Tot School, check
here
.