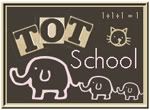 Samuel is 16.5 months
We continued with our farm theme again. I am planning on doing a different theme each month simply because I just don't have the time to change Samuel's activities each week and organise the big kids. Samuel doesn't mind so we are all happy!! That being said, I don't have many photos to share as Samuel has been sick all week and mighty grumpy so there was not much Totschooling happening this week.
We played with our Old McDonalds Farm set made from egg cartons and toilet rolls. We put the toilet rolls on and off the middles of the egg carton and sang old McDonald a hundred times!! We also used them to identify the different farm animals.
We spent a lot of time playing with the musical instruments. He loves music, especially when we get the instruments out.
He loved playing the boat that Liam and Liana made for him and wouldn't get out even after they tired of pushing him around the house!
We did do a few other things like lots of reading and a few jigsaw puzzles but I don't have any other photos unfortunately. However, my favourite of the week was his first taste of a jam donut - yum!!
To see what others have done this week head over to
1+1+1=1