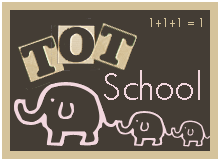 So I haven't posted a tot school post for a while and this one is quite late, but we are still going strong. We have been doing lots this week between Christmas activities, montessori activities and cooking we have plenty of pictures to show!
We have done plenty of building with the big blocks from the resource centre.
MAking Christmas stockings
Nativity sets
I have seen this bead bouquet activity on several sites and just had to try it. Both kids pick this one several times a day.
Lacing is still popular, although Liam still thinks he just threads one hole and then he is done!
I introduce colouring mixing with the eye dropper this week. Liana really enjoyed making and discovering new colours. Liam enjoyed dumping all of the colours into one cup.
Cooking is always a favourite.
And lastly, playing on the bouncy castle. We don't have any nice flat grassy area big enough at this new place to set it up outside, but the lounge room with its high ceilings works perfectly.
For more tot school posts check
here
.