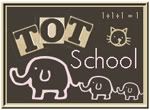 Samuel is 15mths old.
It has been over 2 years since I last post a TotSchool post. Our Totschool star, Liam is now 5 years old, but we have a new star Samuel!!
We are only starting to get into the swing of things with our TotSchool as I have 2 other children to homeschool. Our purposeful paytime is ver hit and miss at the moment but Samuel doesn't mind and is still learning heaps from watching his big brother and sister do their work.
Most of this week was spent on Easter Activities. We did:
Easter dot painting
Played with our Easter sensory box
Went on an Easter egg hunt and Nana and Grandad's
Decorated his sister's art work!!
Some Gardening
To see what others have done for TotSchool this week head over to
1+1+1=1