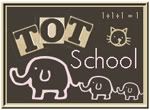 Samuel is 20.5 months
After a looong break from totschool we are back! For the next few weeks we are learning about colours. Last week we did red. Here are some of the things Samuel did.
The older two are learning about the rainforest so Samuel decided to join in and help paint a box for their rainforest model. Not red, but good fun anyway!!
Nothing like sitting in the
weeds
ahh, flowers for some morning tea.
And my favourite photo of the week, My two little cheeky boys!
To see what others are up to this week head over to
1+1+1=1