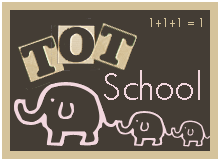 This week it is school holidays so all our normal activities like ballet, latin etc are on break instead we have had swimming lessons every morning at 8:20am - what was I thinking!!!!!!!
Needless, to say we spend the rest of the day with tired kids and tired mum so we haven't done a whole lot of planned learning. There has still been plenty of things going on though.
I made Liam his first tot book from
here
he carried it around with him everywhere for the first couple of days and shows it to everyone he sees. I think it is safe to say he likes it!
We have also done lots of playing with playdoh using the new mats I printed and laminated. Here the kids are making faces for their people.
To check out what others are doing for tot school, click
here
.