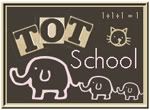 Samuel is 15.5 months
We are slowly getting some structure back into our day after our 3 week Easter break. We continued with our Autumn theme this week and went walking to look at all the autumn leaves and collect some. I forgot to take my camera so have no photos of this but we had a lot of fun.
We also did some more dot painting using Autumn colours to decorate some leaves.
We have just started using
Tot Trays
. I put these out when the big kids are doing their school work in the hopes that Samuel will be occupied enough for us to get some work done. Sometimes it works, sometimes it doesn't.
This week on our trays we had:
transferring giant pom poms
Putting pop sticks into a cream container. He loved this and did it over and over and over all week!
And, putting plastic coins into a slot.
He also spent loads of time playing with our new foam alphabet floor puzzle. He loved playing with this, mostly pulling letters out and scattering them throughout the house for me to try and find later.
We got a new puppy this week, so Samuel spent a lot of time loving on "Molly". I think they will be very good friends. I caught them today with Molly drinking her milk out of her bowl and Samuel down on all fours next to her with his face in it too!! I wish I had had my camera handy but given that he is allergic to cows milk I didn't particularly want to leave him there while I found it.
To see what others are doing for TotSchool head on over to
1+1+1=1