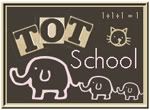 Samuel is 16 months
The highlight of our Tot School week I have no photos off. Samuel finally loves his books. I have tried for so long to get him to sit and read a book with me and he has shown absolutely no inerest, until this week!! We read the same 2 books over and over and over and over again, but I don't mind I am just so happy that he will finally let me read to him!!!!!
Other activities that Samuel enjoyed this week
Stacking his crayons
Playing with the Autumn sensory box again
He spent a lot of time playing in the tent and tunnel that I set up for him.
Samuel also started enjoying trying to do his jigsaw puzzles this week. I found him sitting on his lounge with his puzles many times during the week.
He also spent a lot of time climbing up onto the big kids table to get into their work. He was so proud of himself when he would get hold of a pencil or crayon to do some drawing with!
My favourite has to be these photos of Samuel getting in on the action while the big kids were playing with the Wii. He thought it was great fun to stand on the fit board with the controller just like his big brother.
To see what others are doing for Tot School head on over to
1+1+1=1